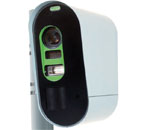 The T-Series cabinet is designed for easy installation. The system can be mounted to existing infrastructure and can be installed in 90 minutes. The web based interface offers intuitive control of all system features - eliminating the need for extensive user training.

The T-Series cabinet can contain :

CAMERA HEAD
The compact GT20 captures crystal clear images of fast moving vehicles. The 20-megapixel CMOS sensor is designed exclusively by GATSO. It combines 30 frames per second (fps) full frame image capture with unrivaled photosensitivity to allow the registration of multiple violations under all light conditions.

INVISIBLE INFRARED FLASH
Extra illumination of still images is provided by the GATSO FT2 infared flash. The narrow shape of the beam casts invisible infared light for illuminating the license plate.

VISIBLE WHITE LIGHT FLASH
The FT1 provides visible white light for illuminating the street scene enabling the capture of passing vehicles under all light conditions.

RADAR
The state-of-the-art RT3 lane specific tracking radar measures speed and position of up to 12 vehicles in the coverage area simultaneously, so even the busiest of intersections can effectively be enforced.

INTERFACE BOX
The interface box provides ample processing power to manage the image data generated by the camera head. Up to 4 Intel Atom processing cores offer sufficient processing power to execute on-the-edge machine vision algorithms such as ALPR, Traffic Light Monitoring and future algorithms.